Snowboard or Ski Tune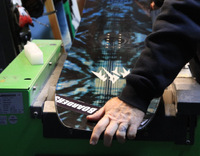 Wax
Want to have a good time on the snow? Then having a freshly waxed snowboard or pair of skis is key for having a good time on the slopes. A freshly waxed boards and ski's slide faster on the snow, which means less time getting stuck in flat areas and having to unstrap. Waxing your board regularly also hydrates and protects the base from drying up, meaning it will last a lot longer.
Hand Wax - This is done using a hand held iron and hand scraper.
Storage Wax - Wax is applied via a hand iron and is left on to protect it between the seasons.
Machine Wax - This is done with our hot wax machine.
Tuning Services
A proper tuning of your snowboard/skis will keep you gliding along smoothly and having fun on the slopes all season. Our tunes include side edging, base edging, belt base grinding, wax and polish.
Edge and Wax - Side and Base Edge sharpening, wax and buff
Standard Tune - Light Base grind, side and base edge sharpening, wax and buff
Restoration Tune - Is for Boards and Ski's that have excessive amount of rust on their edges.
Full Tune + Base Fill - This include Ptex fill of scratches up to 15cm in length. Doesn't include core shots.

Repairs
Delamination, edge impacts and base repairs, we'll bring your beat-up board/skis back to life.
SERVICE
PRICE
Hand Wax
$25
Storage Wax
$15
Machine Wax
Free
SERVICE
PRICE
Edges + Wax
$50
Standard Tune
$65
Restoration Tune
$75
3D / Battalian Tune / Split
$90
Full Tune + Base Fill
$90
3D / Split + Base Fill
$115
Store drop off location
646 Pittwater Road, Brookvale 2100 NSW
Phone: (02) 9939 2400
This category is empty! Please try another category or use our search function to find what you are looking for. If you require further assistance please contact us.