Women's Snow Outerwear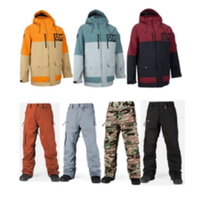 Stay Warm and Stylish: Women's Snow and Ski Apparel
At Boarders Online, we believe that women should never compromise on style or comfort, even in a snowy wonderland. Our diverse collection of women's snow and ski apparel offers the perfect balance of fashion and function, ensuring you can hit the slopes with confidence and stay warm while looking fabulous
Snow Pants Women Love
Embrace the winter wonderland with our selection of snow pants for women. Designed to keep you dry and cosy in the snow, our snow pants come in various styles and fits, catering to all preferences. Whether you're shredding down the mountains or enjoying snow activities, our snow pants provide the protection and flexibility you need for an exhilarating adventure.
Ski Pants Women Adore
For the female skiers out there, our ski pants deliver both style and performance. Crafted from high-quality materials, our ski pants keep you warm and comfortable during your alpine escapades. From classic designs to modern cuts, our ski pants ensure you look chic on and off the slopes.
Elegant Ski Suits for Women
Make a statement on the ski resort with our stylish ski suits for women. Our ski suits are not just about fashion; they also offer excellent insulation to keep you toasty as you carve through the snow. Elevate your skiing experience with a ski suit that exudes elegance and sophistication.
Snow Jackets for Women: Warmth Meets Style
Stay snug and fashionable with our range of snow jackets for women. Designed with the latest technology, our snow jackets keep you protected from the elements while maintaining a sleek and trendy look. From bold colours to classic neutrals, our snow jackets cater to all fashion preferences.
Ski Clothes for Women: Performance and Grace
Our ski clothes are designed to enhance your performance on the slopes while showcasing your grace. From moisture-wicking base layers to insulated outerwear, our ski clothes offer the ideal combination of comfort and style for your skiing adventures.
Chic Snowsuits for Women
For those seeking a fashionable all-in-one solution, our snowsuits for women are the epitome of chic. Enjoy the convenience and warmth of a snowsuit without compromising on style.
Ski Outfits for Women: Effortless Elegance
Skiing has never been so stylish! Explore our ski outfits for women that effortlessly combine elegance and functionality. Hit the slopes in an outfit that expresses your unique taste and boosts your confidence.
At Boarders Online, we take pride in offering a wide range of women's snow and ski apparel to elevate your winter adventures. Discover the perfect combination of fashion and performance with our handpicked collection. Enjoy the snow in style and comfort